SERVICE & REPAIR
A FEW OF OUR CONVENIENT IN-STORE WATCH SERVICES INCLUDE: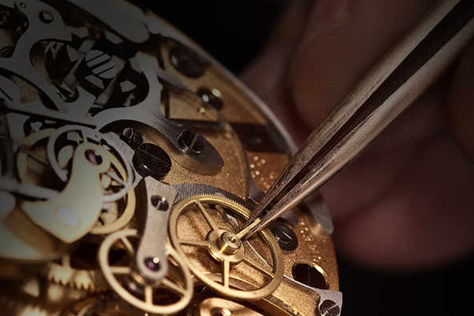 Battery Replacement
Philippe & Son replaces a batteries in addition, we perform a water resistance test to detect leaks that can be repaired during the battery replacement. Any watch purchased at Philippe & Son receives this service at no charge during its warranty.
Sizing & Other Adjustments
Whether you purchased your watch at Philippe & Son or elsewhere, our professional staff will provide you with the perfect fit. Any watch purchased at Philippe & Son receives this service complimentary.
Polishing & Refinishing
If you wish to redeem that original shine in your watch, bring it to a Philippe & Son store. Materials requiring further care can be sent to our authorized service center, equipped with a specialized staff capable of resolving almost any issue.
Straps & Bracelets
Philippe & Son provides a diverse selection of replacement straps and bracelets for your unique timepiece. Any items not in-store can be special ordered through our service team; the possibilities are endless.
Mechanical Watch De-Magnetism
Is your watch running fast? Many mechanical watches are disrupted when magnetic fields penetrate the timing element. Philippe & Son will conduct a test and, if necessary, apply an inverse magnetic field to restore the timepiece's normal function. This service is complimentary.
Water Resistance Maintenance
Protect your watch from water damage. This maintenance includes the replacement and lubrication of gaskets and seals to ensure continued water resistance.
OUR FACTORY AUTHORIZED WATCH SERVICE CENTER PROVIDES THE FOLLOWING MORE SOPHISTICATED SERVICES: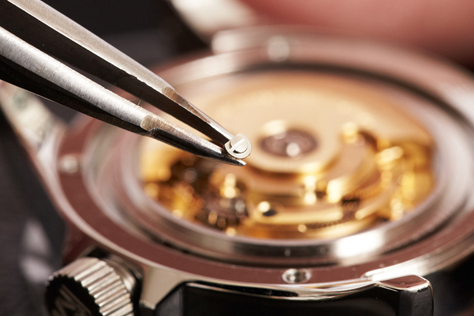 Complete Maintenance
This service restores the timepiece to its original factory specifications and prolongs the life of the watch. Most mechanical watches require a full maintenance every three to five years, depending on the brand specifications.
In Philippe & Son the complete maintenance includes disassembly, cleaning and reassembly of the movement where worn parts are replaced, and improvement in the timing of the watch.
Engraving
Remember your special occasions with Philippe & Son engraving service.
Plating
Original finish can wear off over time. Philippe & Son offers Rhodium, 18k and 14k plating options for your specific watch needs.
Refinishing
Rejuvenate your watch to its original look. The use of a customized machine, fit with wheels of different "grit", recreates the finish applied to the authentic watch material.