EYJAFJALLAJÖKULL EVO – MOTHER EARTH'S NEW EXPLOSIVE STATEMENT
RJ-Romain Jerome turns to Mother's Earth treasures and celebrates the fourth anniversary of the Icelandic volcano's eruption that stranded over 100,000 travellers in various parts of the world.
On April 14th 2010, the Eyjafjallajökull Icelandic volcano erupted causing the European airspace to shut down for a period of six days. This historical event marked the minds of millions of people and inspired RJ-Romain Jerome to create the Eyjafjallajökull-DNA timepiece belonging to the "Earth" collection.
Conveying memories of fire and lava, swept over by powerful images of dust and winds, the Eyjafjallajökull-DNA timepiece is a true testament to Mother Earth's temper and man's timeless respect when faced with her strength.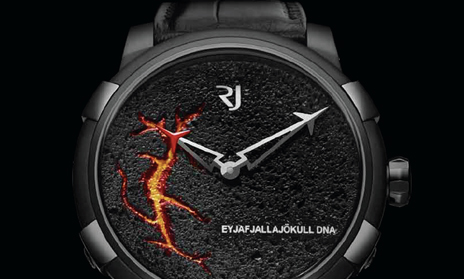 Celebrating the fourth anniversary of the eruption, RJ-Romain Jerome introduces the Eyjafjallajökull Evo timepiece inspired by the original legend. With a new retro, vintage look, the watch has evolved with a 43mm black PVDcoated steel case designed by Daniel Haas.
The eruption has been immortalised with lava stone used as the base of the dial. The tips of the minute and hour hands mirror the grounded aircrafts whilst lava seems to be seeping through the dial with a beautifully hand drawn volcanic fissure in cold enamel. This exquisite handcrafted dial is highlighted by a black alligator strap, allowing the wearer to appreciate the chaotic scene unfolding on his wrist.
The eruption marked the day where Nature played a major role in the world's global stand still and allowed man to reflect on his own philosophy of time. Available in a limited edition of 99 pieces, the timepiece gives you the chance to own a part of your own history.
RJ-Romain Jerome illustrates our contemporary history and reminds us of marking events that have occurred and touched us on many emotional levels. The Eyjafjallajökull Evo timepiece captures the rupture between our planets' ongoing changes and man's never ending thirst for travel, personal achievement and technological breakthroughs.