CORUM AMERICAS COLLECTION – GUATEMALA EDITION
The watch and jewelry Philippe & Son made ​​the presentation of the Limited Collection Americas created by Swiss Corum watches house in which Guatemala is included with a special limited edition of 25 numbered pieces . Each watch from own personalized identity has been designed in a sophisticated way for collectors and connoisseurs of fine watchmaking .
Corum once again demonstrates its great capacity for creativity presenting this new collection consists of 9 limited editions on the subject of American countries: Guatemala , Argentina , Brazil, Colombia , United States , Mexico , Panama , Venezuela and rose gold edition dedicated to Americas.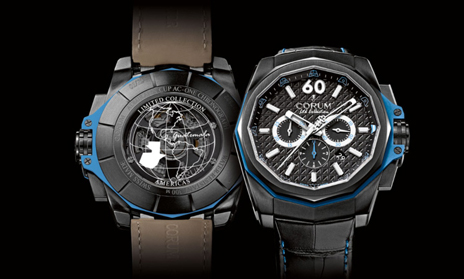 The Americas Collection Limited Guatemala joined to create a unique and limited design representing cultural diversity and characteristic details of each country.
Each watch includes in its design name, map , flag and country representative colors , making each piece unique and exclusive , providing editing Guatemala have put the country name in high worldwide.
Each of the pieces in this collection looks at the bottom of the box globe highlighting the territory of each country. The box with its black PVD and black alligator bracelet watches grant to an elegant and classic look . The dials and bezels of each issue presented decorations made with the national colors of each country.
The Americas Collection Limited is exhibited in a special and unique wooden chest , which
features original prints . One of each limited edition is placed next to the name of the country represented , highlighting the center of the box part of the American Continent .
The event was attended by Edouard Peret , Director for Latin America and the representatives of Corum Philippe & Son , who unveiled the limited edition single piece to Guatemala . Also as part of the exhibition presenting the work of artist and photographer Guillame Corpart where a panoramic view of Guatemala City intervened with the unique technique of the artist showed was performed.
Americas Limited Collection is now available in Guatemala in Philippe & Son , located in Plaza Fontabella , first level , Local 4D.